Sale!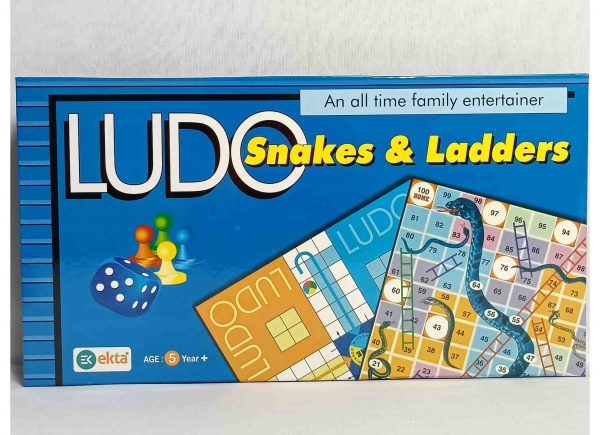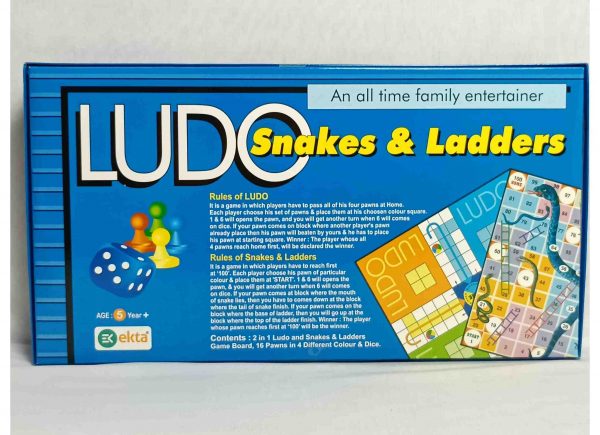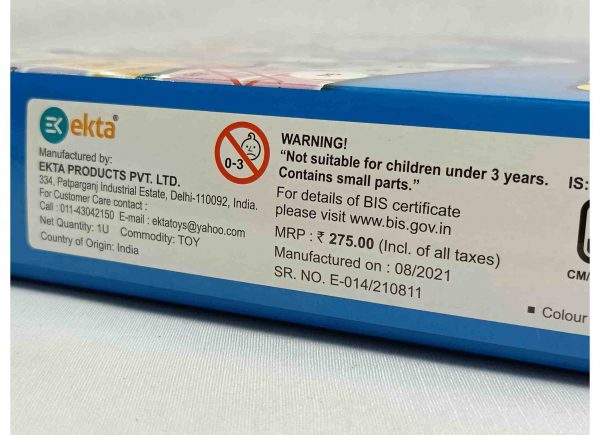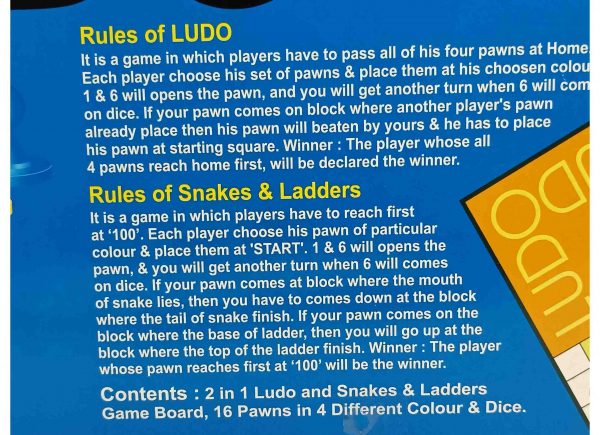 Ludo / Snakes & Ladders- By Ekta
Size of box-29 x 21 x 5 cm
Rules of ludo- It is a game in which players have to pass all of his four Pawns at home from stop. Each player chooses his set of Pawns and place them at his chosen colour. 1 and 6 opens up the pawn and you get another term when 6 will come on dice .If your Pawn comes on block where and other players Pawn is already placed  than his Pawn will be beaten by yours and he has to place his pawn at starting square . Winner :  The player whose all Four Pawns reach home first will be declared the winner. 
Rules of Snakes and Ladders .It is a game in which players have to reach first at hundred each player chooses his pawn of particular color and place them at start. 1 and 6 will open the Pawns and you will get another turn when 6 comes on dice. If your pawn comes at Block where the mouth of snake lies then you have to come down at the Block where the tail of snake finishes. If your pawn comes on the Block where the base of ladder starts, then you will go up at the Block where the top of the ladder finishes . Winner : The player whose pawn reaches the first at 100 will be the winner.
Login to see prices
Item will be shipped in 1-2 business days
Additional 5% on 6+ pc
Contents-  2 in 1 Ludo and Snakes and Ladder game board .16 pawns in 4 different colours and Dice.
| | |
| --- | --- |
| Age Group | 3-6 years, 6-12 years, 12+ years |
| Brand | Ekta |
| Country of origin | India |
| Margin | 55%+ Star products |
| Gender | For All |
| Disclaimer | All Information provided is as per manufacturer/ packing . Refer our T/C for details. |
No more offers for this product!
General Inquiries
There are no inquiries yet.